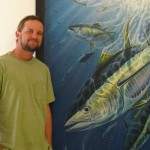 As a 4th generation Floridian, Peter is influenced by his natural surroundings from the ocean to the great outdoors. Growing up an avid fisherman and surfing the waters of Florida, Bahamas and other exotic locations, Peter gained a lifelong passion for nature, the sea, and it's beautiful preditors and creatures. Coming from a family line of fishermen, artists and painters, he felt naturally driven to pursue and explore marine art. Early on, he quickly pursued drawing, painting, creating imagery and illustration from the world around him. Peter's vast Experience of angling on the water, and research on the Sea gives him the inspiration and worth to recreating his unique scenes.
After graduating from Florida Atlantic University with a Fine Arts degree in Graphic Design in December 2008, and working as an artist throughout, Peter has continued to succeed in bringing his view and experiences to life onto canvases and wall spaces, and designs. Peter has recently been working with cities across South Florida with their Art in Public Places programs helping bring large scale murals to the community, while at the same time always finding time to express his visions on canvas as well.
"I have always meshed whatever surrounding forces are driving me into the body of work I'm doing. Sometimes my work lends itself to different areas of importance in my life, whether that be my lifestyle on the ocean, or my place in nature, which I live and paint into one body of life's work " -Peter
Peter has exhibited his work in various Galleries and venues around South Florida since 2007 and debuted his first solo exhibition at Eaton Fine Art in West Palm Beach in September 2010, which solidified his statement of work and shed light on his vivid wild imagery.
Since then Peter has continued to exhibit throughout Florida and can also be found exhibiting at Ft.Lauderdale and Miami International Boat shows. Peter is now working with different organizations across the Sate of FLorida including the CCA Florida , Florida Sport Fishing Magazine for there Covers, and various fishing tournaments in Florida and the Bahamas including Bluewater Movements .
Peter has recently teamed up with the apparel company Shore Thing, and launched 'The Peter Agardy Signature Series' a line of shirts featuring his vivid imagery.
Follow Peter on Facebook – Also Be sure to keep up on Peter's most recent endeavors in the news feed on the homepage.
Peter is always up for a challenge and willing to do commissioned pieces of art as well.
Below are a few insirational photos from Peters fishing archive's :