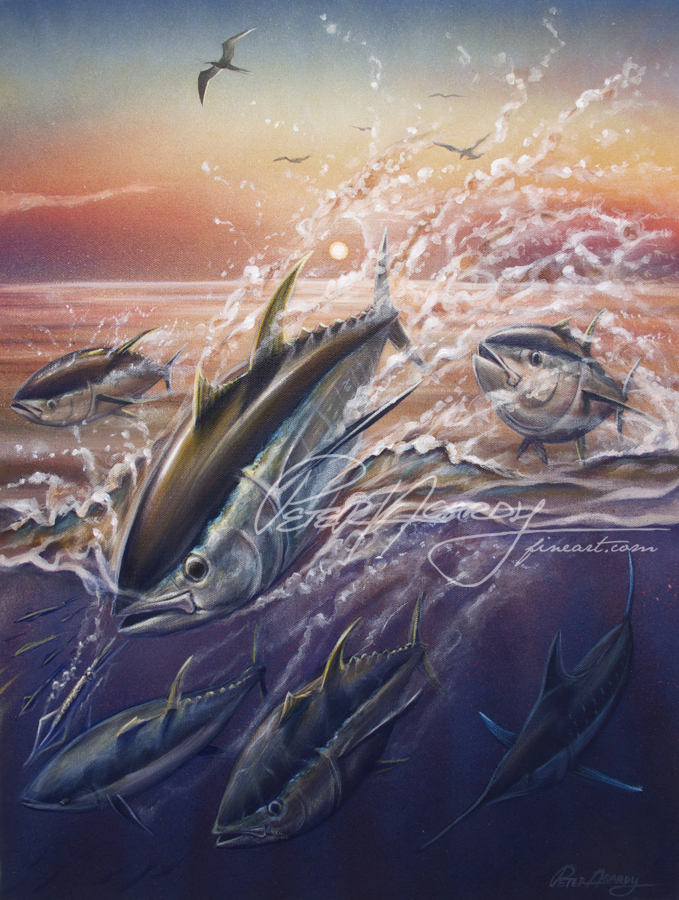 "Tuna Twilight" – 18″ x 24″ Acrylic and Enamel on Canvas. For Sale @ CCA Banquet Auction only. Copyright 2012 Peter Agardy.
Ive recently teamed up with CCA Florida on some of their fundraising events, and other projects. I recently finished this new painting for their South Palm Beach Banquet and fundraising auction at the end of this month, if you are interested in the event, or a chance to buy the painting at auction, visit here.
This painting was inspired by one of my Bahamas Tuna fishing trips this summer. It was one of those moments that will be etched into my memory forever.  After a REALLY hard day of slow fishing, live baiting multiple flocks/Schools of tuna with only a little success, we finally came up on the last flock of birds for the day just as the sun was setting and the water was completely glassed off. We got the tunas busting around the boat, and pretty soon, everyone onboard was tight on Yellowfin Tuna in the 10-50lb range. After about a half hour of Mayhem, we began to see the schools of tuna erupting by the acre all at one time in unison, quite a sight. A friend of mine utters 'I bet there's a Blue (Marlin) pushing those things up!" , and what do you know within a minute we spot a Giant (500lb+) Blue Marlin slowly and eerily swim 5 ft under the boat, No joke!! Lit up like a Christmas tree the Flourescent Blue pectoral and tail fins are what I remember most about him.  To me it was the holy grail of what we had gone there to do. I knew from that moment this scene would one day be translated into at least one yellowfin tuna painting, and maybe more to come!
Enjoy the pictures below as well!